Count Hans Hermann Carl Ludwig von Berlepsch
Ornithologist (1850 - 1915)
The following text is an extract from the family-chronicle written by his eldest son
Karl Graf von Berlepsch (1920).
Hans Hermann, called Hans, was born 29.7.1850 in Fahrenbach near Witzenhausen as first child. His father was strictly and his mother usually too good-natured. The political and economic circumstances were still quietly and arranged. Life was guarded, frugal and modest, without any extravagance.
Already as a young boy he showed a distinct preference for the sciences. His father could stuff killed birds himself well. The son Hans took this up with true enthusiasm and got himself a small collection of brated birds of the native flora.
Then came the seventies war and the boy, still a schoolboy, had to enter with the 14. Hussars as soldier. He portrayed this time later as an awful time. The military drill so even not fitted to him and for horseback riding he absolutely showed no talent. That he nevertheless made it to the Lieutenant, he owed more or less the goodwill of his superiors.
After the military time was over he graduated the higher school diploma and began a beautiful students time in Leipzig, Halle and Zuerich. He studied ornithology and botany and got himself a big herbarium with Alps plants and won himself many friends, primarily in scientific circles, who stimulated him strongly.
After his studies his father gave him a longer stay in England which widened his horizon significantly and shaped him cosmopolitan. He was a friend of theater and operas and communicated in best reputed circles.
His collection of bird brats grew from year to year and his publications in German and English language attracted the attention of the whole ornithological world on him. He got crate-wisely dried brats from South America, which he softened and formfully prepared for the scientific exploration and which received the names of his friends. It had been thousands meanwhile.
Being 31 he married and they moved in a small little house in Münden, in-between many gardens, not far from the railway station, in order to visit the forest-academy. Münden was a bird-paradise and his young wife had to learn the bird-voices and to imitate them. Much money engulfed the extensive bird collection and a beautiful ornithological library and brought nothing in, so the parents again and again had to help out. The house became soon too narrow, so that a spacious new house had to be build in the neighborhood, in which boxes with bird brats stood everywhere and spread a smell of camphor and naphthalene. Finally, he began to collect bugs with the children as well and to arrange them in big glass boxes.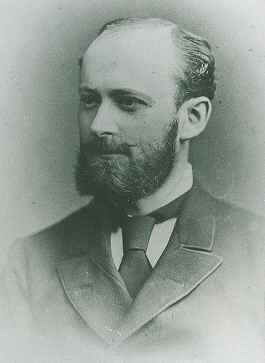 He was a passionate hunter and hiker. Researchers went in and out in his home from many countries and museums and told breathtaking experiences with wild animals and natives in the jungle, which his children wanted to hear again and again.
At that time he still wore a brown full beard, which he shortened only later. The children report, if they received a kiss from him, they had the feeling of a touch with a conifer forest. His big dark brown eyes could look very seriously, but also cheerfully.
As his father 1893 died the life changed fundamentally. He had to take over the heritage of his father and had to concern himself intensively with the administration of Castle Berlepsch with all the properties belonging to it. He was continuous on the way between Münden and Castle Berlepsch. Extensive repairs and rebuildings had to be planned in order to make the castle up-to-date inhabitable again. 1896, the family moved from Münden into the not yet ready castle. His extensive collection became accommodated in the ancient fruit-house build by Christoph Mordian von Berlepsch and now rebuild into a museum. The scientific works now had to stay back unfortunately.
The worries with the property as well as several offices in local committees and with the government in Kassel incriminated his anyway weak health very much. He managed this fragmentation with a phenomenal memory. He only wrote each letter first in concept and then in purewriting. He could study for nights old documents and was pleased joy-beaming and conspicuous about discoveries.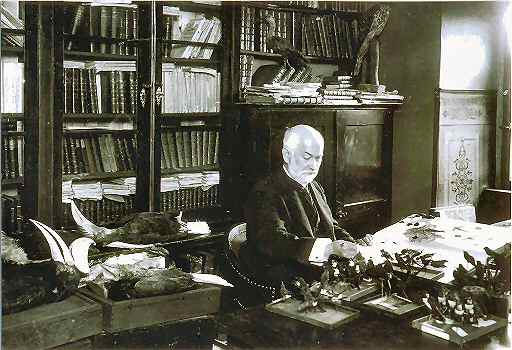 With increasing age, he became more and more quietly and suffered from diabetes, about which he wanted to know nothing however. The politics of the Empire he refused completely. He saw the exaggerated nationalism ending in an evil end.
His birdbratscollection included now 60.000 species, under it 300 new types, and attracted specialists of all countries.
In his last years of life, he even became chairman of a landowner-club and developed a system for predeterming the in future necessary expenditures for the conservation of buildings.
1914 World War I broke out and showed the worries feared by him.
27.Februar 1915 Count Hans Hermann Carl Ludwig von Berlepsch died after long illness.
Newspapers and subject journals brought honorary obituaries for the famous ornithologist and Scientist Count Hans von Berlepsch. They wrote that he has been the most hard-working man, had a good word for everyone, had always been helpful and never "proud".
The large birdbratscollection has been sold after his death by his son to the Senckenbergische Scientific Museum in Frankfurt / Main, where it survived the World War II and the destructions in Frankfurt and today parts of it are exhibited in the 1. top floor.
More than 55000 brats of the birds available in the Senckenberg-Museum are originated from this collection.
The museum of the Observatory of Kremsmünster / Austria reports under "object of the month" (September 1998) that 85 Kolibris of the museum were bought from Hans Freiherr von Berlepsch in Hannovers-Münden in the years 1894/95 for the Kolibri-Collection of the Zoological Cabinet.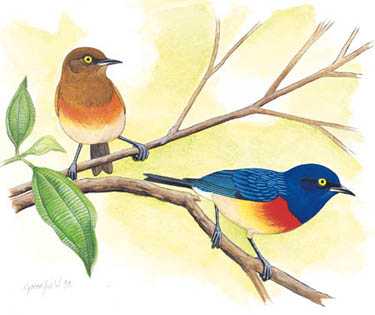 scarlet breasted dacnis berlepschi
---
von Berlepsch Paradise Bird (Parotia berlepschi)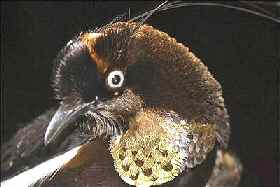 Washington (AFP) - 7.2.2006 - with an expedition into one of the most remote jungle-areas of Asia, the Foja Mountains in the western part of the island Papua / Indonesia, with over 1 million hectares of jungle, researchers have discovered a "lost world" full with new types, gigantic flowers and rare animals according to their own statements. The expedition, financed by CI and National Geographic, could make the first photos of the sixtailed "von Berlepsch Paradisebird" in December 2005 and observed the matingdance of the bird. The bird had been described for the first time in the 19. Century - at that time however only on the basis of dead specimens, brought by native hunters from the jungle of New Guinea. Several expeditions searched for the paradise-bird since then, however until today nobody knew where the animals are at home.
---
Statement for all links in this homepage: In accordance with decision of 12.May 1998 - 312 OS 85/98 - "liability for links" by the Regional Court (LG) Hamburg we hereby expressly explain that we have no influence on the contents of linked pages outside this homepage, for whose contents we cannot be liable and that we dissociate from contents of linked sites that are against valid laws.